Cowboy Cookies: A Judy & Paige Presentation
skat5762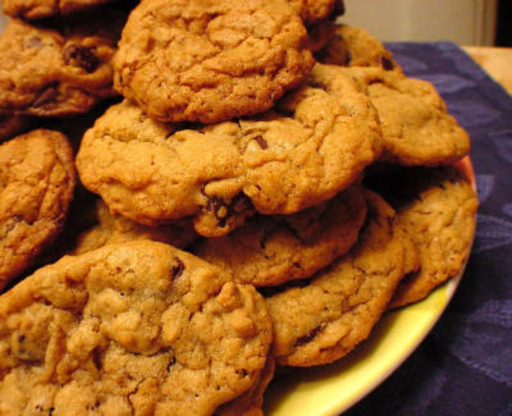 These are the beef jerky of the enlightend cowboy in the modern desert." So says my fiancee. These cookies were created by his mum Judy, carried on by his sister Paige, and is now a tradition I'm proud to share.

I added a touch of maple extract, these cookies rocked! Used a cookie scoop--they were bakery perfect. Can put many on the sheet as they do not spread that much.
Preheat oven to 350-degrees.
Melt butter and mix, in large bowl, with both sugars.
Add vanilla and eggs.
Add all dry ingredients except last two, blending thoroughly.
Add chocolate chips and oatmeal, mixing well.
Drop by rounded spoonfulls onto cookie sheet.
Bake 10- 12 minutes, until cookies just begin to turn golden brown.
Cool, or eat'em straight from the oven!