PanNan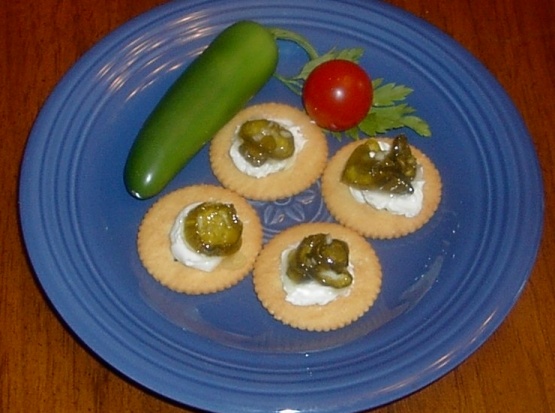 I bought a jar of these little dandies at a craft fair last year, and have been looking for some in stores without success. So instead I decided to find a recipe and make some. These are very hot with the seeds, or less so if seeded first. A cowboy candy slice is delicious served with cream cheese on a cracker. For a nice appetizer presentation, place 3 oz block of cream cheese on a plate. Top with 2 tbsp of cowboy candy, and place crackers around the edges of the plate. Note of warning: when slicing the jalapeno, I suggest wearing disposable latex gloves. Also, the fumes, while slicing and cooking, are strong (but fabulous)! This recipe represents the state of Texas.

This is oh SOOOOOOO good. I made these yesterday and can't stay out of the jar. Who needs cream cheese. I only left the seeds in one pepper and deseeded the others as was not sure how hot but next time will probably half them. For sure I will double or triple the next time around. Thanks for sharing this absolutely delicious recipe.
Slice jalapenos, and place in a small sauce pan.
Add water and sugar.
Cook over medium heat until boiling.
Reduce temperature to low, and simmer until the liquid has reduced, and the sugar water has become syrup-like (about 15- 20 minutes depending on temperature of heat source).
Let cool and place in clean jelly jar.
Store in refrigerator.