Cow Punching Chili and Dumplings
loof751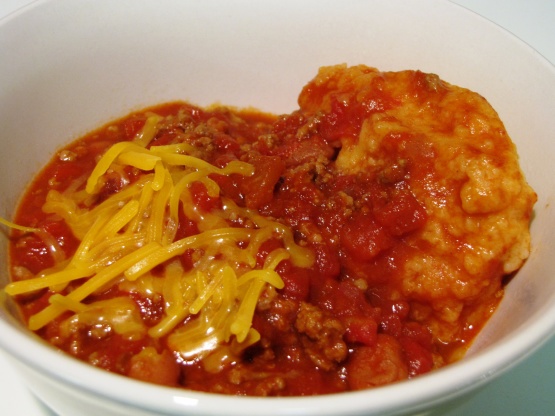 From Best of the Best from America Cookbook by Gwen McKeen and Barbara Moseley, c. 2005.

This is a nice chili made great by the addition of the dumplings! I left out the onions and added some cumin, otherwise made as specified. We generally like our chili hotter so I'll add more spice next time. I think it would be fun to try adding some cornmeal, cayenne, or cheese to the dumplings. Thanks for posting a fun chili recipe!
Make up chili (cook all in one pot) and simmer until right before serving time (I simmer 1-2 hours). Add dumplings 15 minutes before serving.
For dumplings, combine flour, flakes, baking powder and salt. Mix milk with egg and oil and add to above. Stir to moisten. Let stand several minutes. Place spoonfuls on Chili, cover tightly, and cook 15 minutes.