teresas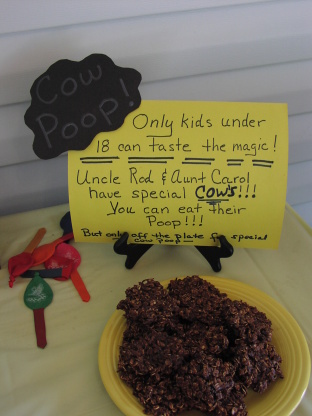 Unbaked cookies. These cookies have tons of names, e.g. Hay Stacks, Turtles, Unbaked Cookies, etc. They have always looked like cow poop to me, but they are addicting. Betcha can't eat just one!

I have made this so many times but I have never rated it. Now is the time. These are soooo good. My mom used to make them when I was a kid but this recipe is waaaaayyyy better. The are not so dry. Great recipe !! These are my hubby's favourite cookie. Thanks :-)
Melt butter in large sauce pan, add milk, sugar and cocoa powder. Bring to medium boil and boil for 1 minute. Any longer and the sauce will harden too much when cookies set. Any shorter and the cookies may not harden enough.
Remove from heat and add rolled oats and coconut. (I usually premix the coconut and oats). Mix well with wooden spoon and drop onto parchment or wax paper. You decide on the size of cookies you want. These cookies take about a 1/2 day to a day to set depending on the size.