Bobtail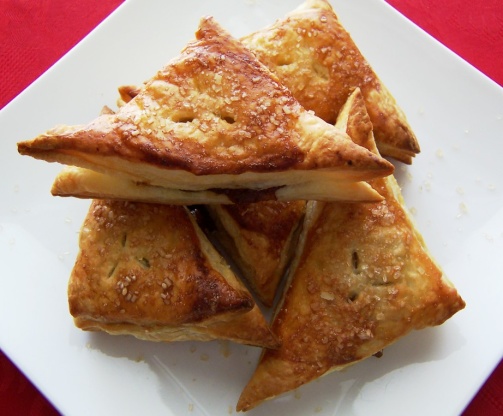 the triangular shape of these cakes, and the three slits across the top, are said to represent the Holy Trinity, though presumably on those occasions the rum was definitely optional!

Delicious and easy! Instructions are easy to follow, even for a novice like me! Sealing the edges with a small amount of water and pressing firmly is important. The pastry bakes up light, crispy and flaky! I sprinkled mine with a bit of regular sugar and raw sugar (just for a little color) The rum in the mincemeat was not overpowering at all. This is just a slightly sweet light pastry! Prepared for Photoswap#5! Thanks MarieAlice!
Set ovent o 425*F or Mark 7.
roll out the pastry thinly on a lightly floured surface anc cut into 4 inch squares, then cut each square in half on the diagonal to make two triangles.
Mix the mincemeat with the rum, if desired, and place spoonfuls on half of the triangles.
Cover each one with another triangle, moisten the edges with a little water and press down firmly to seal. Beat the egg white lightly.
Cut three slits in each cake with a very sharp knife, then brush with egg white.
Sprinkle with caster sugar and place on a greased baking sheet. Bake for 15 minutes or until well risen and golden.
Cool on a wire rack and eat as fresh as possible.