Couscous With Pine Nuts (Barefoot Contessa)
ImPat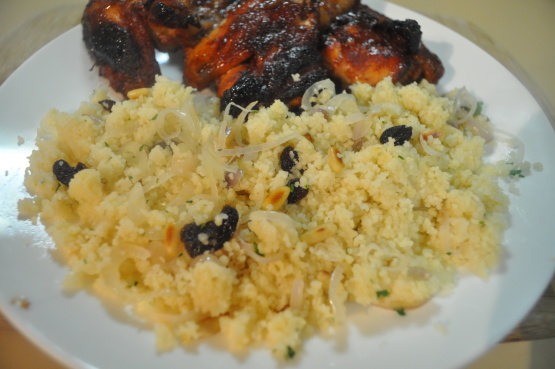 I saw Ina Gartner, the Barefoot Contessa, preparing this dish during the "Friends of Friends" episode of her show.

Top Review by ImPat
I scaled this back for 2 serves and as the only side it filled 3 of us more than adequately. The only changes I made was to use olive oil instead of butter and use sultanas in place of the currants otherwise made to recipe and think using the chicken stock added a nice flavour instead of using water. Thank you NorthwestGal, made for All You Can Eat Buffet.
Melt the butter in a large saucepan. Add the shallots and cook them over medium-low heat for 3 minutes, until translucent.
Add the chicken stock, salt, and pepper and bring to a boil. Turn off the heat. Stir in the couscous, cover the pan, and set aside for 10 minutes.
Add the pine nuts, currants, and parsley and fluff with a fork to combine. Serve hot.