Couscous With Garbanzo Beans and Golden Raisins
JustJanS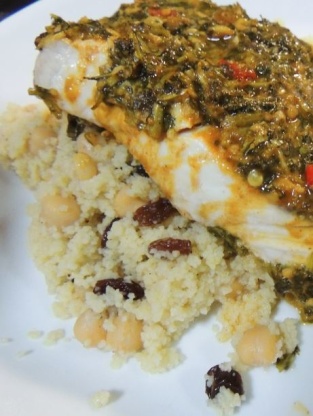 Searched ALL 497 recipes, but did not find THIS one !! It came from a very old Bon Appetit, and the addition of cinnamon, lemon peel, and golden raisins give a Mediteranean flair. It is quick, easy, and makes a different side, if you are tired of potatoes and/or rice.

Top Review by ImPat
I scaled back for 3 serves and still had a serve left over which the DM has claimed for lunch (I'll add a little diced fresh pineapple I have left over and some diced roast pork to round it off for her) and I did used sultanas instead of golden raisins. Thank you NurseJaney made for I Recommend tag and game and recommended by Boomette.
Finely grate peel from lemon to equal 1 1/2 tsp, set aside.
Squeeze 2 TBsp juice from lemon.
Combine 2 cups water. lemon juice, garlic oil, and ground cinnamon in medium saucepan.
Bring to boil, simmer 1 minute.
Remove from heat.
Stir in couscous.
Cover and let stand about 5 minutes, until water almost absorbed.
Mix in garbanzo beans, golden raisins, and reserved lemon peel.
Cover and let stand 5 minutes longer.
Fluff couscous with fork.
Season to taste with salt and pepper.
Transfer to bowl and serve.