Couscous With Dried Apricots, Currants, and Pistachios
ImPat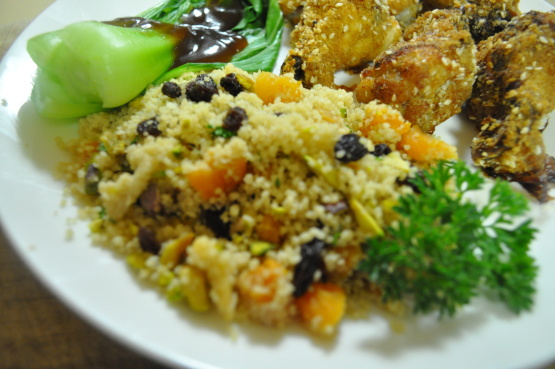 From an old Gourmet magazine, this dish serves 16 but can be cut in half to make a family side dish that will last for leftovers!

Top Review by ImPat
I scaled for 4 serves and used 3/4 cups couscous to 1 cup water and left all other ingredients the same but found myself without cinnamon sticks so used 1/2 teaspoon ground cinnamon and also used sultanas in place of the currants which all worked well for us and was thoroughly enjoyed, thank you CaliforniaJan, made for ZAAR Stars.
In each of two 3-quart saucepans bring half of water, oil, cinnamon, cumin, salt, and apricots to a boil. Stir 1 box couscous into each pan and let stand, covered, off heat 5 minutes. Fluff couscous with a fork and transfer to 2 shallow baking pans to cool as quickly as possible. Cool couscous completely and with your fingers break up any large lumps. Couscous may be made 1 day ahead and chilled, covered. Bring couscous to room temperature before proceeding.
Fluff couscous with fork again and stir in currants, pistachios, mint, and salt and pepper to taste.