Pneuma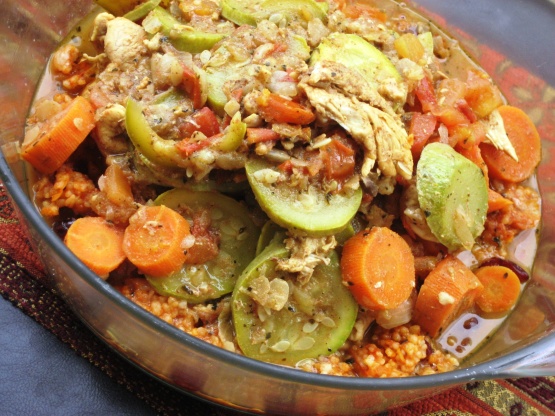 Couscous is small grains made of semolina, wheat flour, salt and water. Its origin is Northern African. Couscous grains are delicate requires only lightly steaming. I was introduced to couscous when I was in West Africa. Since then, I enjoy cooking and eating it.

Top Review by Pneuma
These are very good and very healthy although it's not something we'd crave for. Followed recipe as is although wasn't sure what cut the zucchini's and carrots were since it wasn't specified in the recipe. In using Recipe #232890 for the couscous, I felt the dish was improved. Thanks for sharing.
Clean the chicken breasts with cold water, lemon/lime and a pinch of salt.
Rinse the chicken breasts and pat dry; cut as desired.
Sauté the onion with oil until tender.
Add to the the onion, the chicken breasts, cloves, cinnamon; stir-fry until the chicken turns to golden brown.
Combine the chicken, the tomatoes, red chili pepper, curry or turmeric, carrots, zucchini; cook for five minutes.
Add the chicken broth, bay leaves, salt and black pepper; Cook for 15 minutes.
Meanwhile, prepare the couscous following direction from the package.
In a serving dish, place the chicken and sauce in the middle and the couscous around it.
Serve it warm.