Couscous With Apples, Cranberries and Herbs
ImPat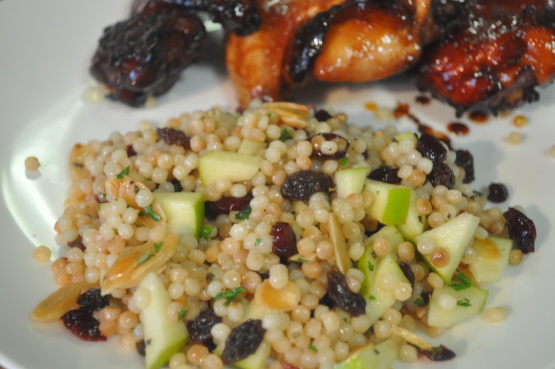 From Giada De Laurentiis. Barley or orzo may be used in place of the Israeli couscous, which is a larger grain. If using orzo rinse quickly after cooking to remove residual starch.
In a medium saucepan, heat the olive oil on medium-high heat. Add the couscous and cook, stirring occasionally until slightly browned and aromatic, about 3 to 5 minutes.
Add the chicken broth and bring to a boil. Simmer for 10 to12 minutes or until the liquid has evaporated. Transfer the cooked couscous to a large bowl; set aside to cool. Add the parsley, rosemary, thyme, apple, dried cranberries and almonds.
While couscous is cooking, prepare vinaigrette. In a small bowl, combine the vinegar, maple syrup, salt and pepper. Whisk in the olive oil until smooth. Pour the vinaigrette over the couscous; toss to coat evenly.