Couscous Salad With Spices
flower7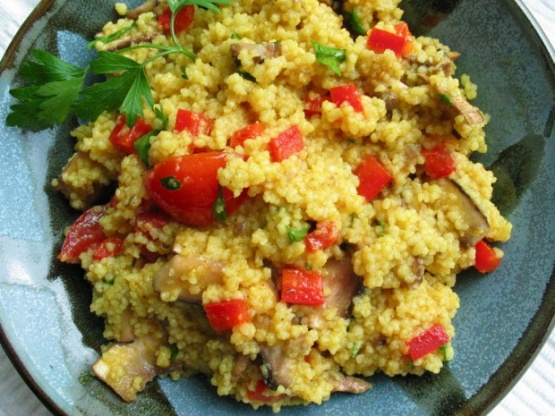 A healthy and refreshing salad.

Tasty! I left out the cucumber and used parsley instead of cilantro. Otherwise followed the recipe, though I cut the oil in half. I used 3 small portabella mushrooms (about 5-6 regular mushrooms worth). I might use a little more spices next time but otherwise it was great! Thanks for sharing!
Whisk chicken stock, cinnamon, garlic powder, cumin and tumeric in a saucepan and bring to boil.
Add couscous to the pan and bring to boil and cover.
Remove from heat and let couscous sit for 5-10 minutes
Transfer couscous to a mixing bowl and let cool.
Add red bell pepper, cucumbers, cherry tomatoes, mushrooms, and cilantro into couscous.
Whisk lemon juice, olive oil and garlic in another bowl. Then add the mixture to couscous.
Toss and add salt and pepper to taste.