Couscous Salad with Dried Cranberries and Pecans
ImPat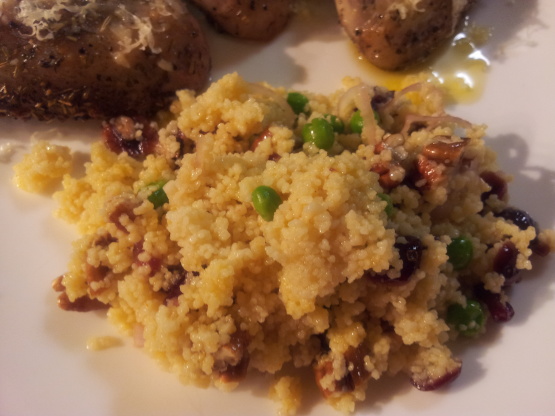 I love couscous salads, you could almost say I collect them!

We loved the recipe. We eat a lot of couscous and this was a nice change. We really enjoyed the cranberry part the best. It also had nice colors. This salad also tastes great leftover because the flavors blended together.
Toast the pecans in a shallow pan in a preheated 350-degree oven until very fragrant, about 7 minutes.
Set aside to cool.
Place the couscous, cranberries, and turmeric in a large bowl.
Pour in the boiling water, stir, then cover the bowl with a large plate or foil.
Let sit for 10 minutes.
Remove the cover, then fluff the couscous with a fork.
Cover again and let sit 5 more minutes.
Stir in the pecans, peas, scallions, cucumbers, and basil.
Combine the dressing ingredients in a jar with a tight-fitting lid and shake vigorously.
Pour over the couscous.