Peter J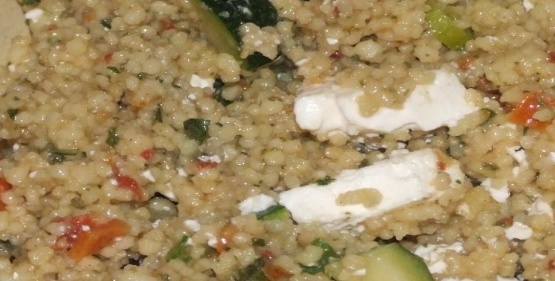 This came from one of Mr. Food's cookbooks. I altered it slightly for my family's tastes. It is one of our favorites. Has a chill time.

Have been making this from an ad for Near East original plain couscous, for so long, that my page has faded to be almost unreadable. It is very forgiving of adding some of your favorite flavors - I usually add some sultana raisins and toasted pine nuts. Sometimes it pays to advertise ! This holds over one night, but gets soggy after that.
In a saucepan, bring the broth to a boil.
Stir in the couscous, cover and remove from the heat; let stand for 5 minutes.
Fluff lightly and place in a large bowl to cool.
Add the remaining ingredients except for the cheese and mix well.
Chill for at least 2 hours or overnight.
Stir in the cheese just before serving.