ImPat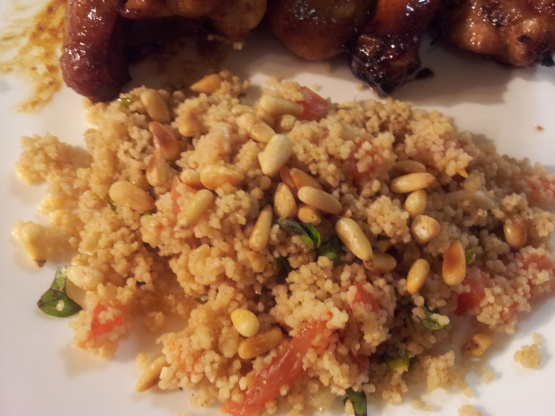 This is always a hit for potlucks in the summer, but my husband loves for me to make it at home all the time. I like to pair it with falafel balls, stir fried tofu, or any other Greek, middle eastern, or vegetarian dish. It taste delicious served on a bed of crisp, whole romaine leaves for a light lunch or dinner. Adjust the jalapeno pepper to taste. Enjoy!

Top Review by ImPat
Flavour wise great but had some problems with the cooking of the recipe, I added hot stock/broth to the mix, took of the heat and covered and 10 minutes later well I really had to work to separate the grains of couscous so they were fluffy but still ended up with some small lumps, so I think if would sauté the vegies up as per direction and then add to the couscous and then had hot broth/stock, cover and then fluff with a fork. I did use dried chilli flakes in place of the jalapeno and as we are not big fans of cilantro/coriander I used sweet basil which went well with the tomatoes. Thank you Southern Bette, made for Name that Ingredient tag game.
Heat olive oil in a saucepan. Add green onions, garlic, and cumin. Stir fry for 1 minute.
Add broth and bring to a boil. Remove from heat, stir in couscous, and cover. Let set for 10 minutes.
Pour couscous into a medium bowl and add remaining ingredients except pine nuts. Mix everything together and season with salt and pepper to taste.
Cover and chill for at least an hour. Sprinkle with toasted pine nuts and serve.