katew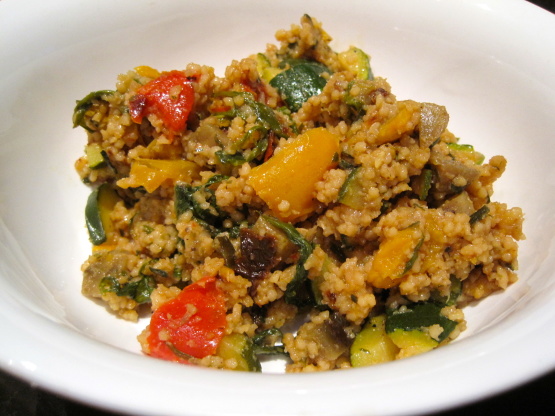 This is based on a recipe from Alessandra Avallone's book, The Complete Book of Salads. I'm always on the lookout for a great couscous salad, and I stumbled upon this recipe which I like a lot.

Delicious salad. I did add greater quantities of the veggies because we love our summer veggies. I thought the recipe was very flavourful and do have to take issue with Chef Dudo for saying this recipe needed jalapeno or tabasco - it is a Tunisian recipe and complies to that part of the world. Heat is not applied everywhere and to everything!
In medium saucepan, boil 1 1/4 cups salted water.
Add turmeric and 1 tablespoon oil, then the couscous.
Remove from heat, cover, and allow to stand 5 minutes.
Turn the couscous out onto a flat platter and separate grains with a fork.
Heat 4 tablespoon oil in a frying pan and add the garlic and cumin seeds.
Add the diced vegetables and saute for 10 minutes, seasoning with salt and pepper.
Mix the couscous and vegetables together in a large bowl and stir well.
Sprinkle with chilli powder or paprika.