Boomette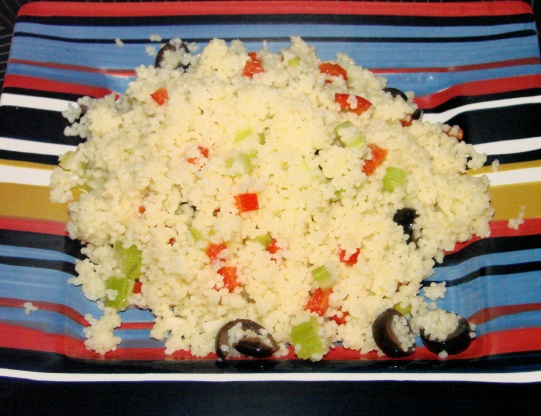 I've changed this so much over the years and I'm at a loss to remember where I got it. It's especially good with grilled fish, pork, chicken, or kabobs.
This is a wonderful recipe. I boiled the water in a saucepan and then added the couscous, removed from the heat, covered it for 5 minutes. I omitted the onion, carrots. I used a red bell pepper. I'll have to do this recipe again soon. Thanks Pierre Dance :) Made for Bargain Basement tag game
Place couscous in a heated bowl. add water.
Cover and let stand for 20 minutes, 'til all the water has been absorbed.
Add the vegetables. Mix well.
In a separate bowl place the oil, lemon juice, garlic, salt, and pepper.
Whisk briskly to mix.
Pour over the salad, toss to blend.
Serve at room temperature.