CandyTX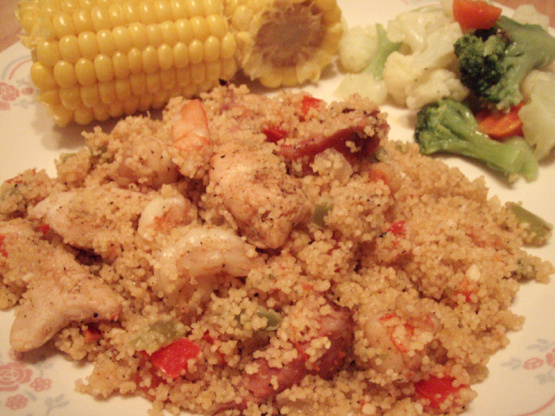 I saw this on "Good Morning America" this morning. Emeril Lagasse is the creator of this recipe. It looked so good that I posted it here to find it easier.

This recipe was such a hit, I had to prepare it twice in the first 3 weeks. We often leave out the hot sauce and add our personal choices for hot sauces at the table. I find that I have to adjust the liquid content (depending on the brand of couscous used) to conform with the instructions on the box.
Combine all ingredients thoroughly and store in an airtight jar or container.
Makes about 2/3 cup.
In a bowl, combine the shrimp, chicken and Creole Seasoning and use your hands to blend thoroughly.
Heat 2 tablespoons of the olive oil in a large nonreactive skillet over high heat.
Add the seasoned shrimp and chicken and stir-fry for 1 minute.
Add the andouille, onions, bell peppers, celery and garlic and stir-fry for one minute.
Stir in the tomatoes, bay leaves, Worcestershire, hot sauce, stock, salt and pepper and bring to a boil.
Cook for 10 minutes, stir in the couscous, and turn off the heat.
Cover the skillet and allow to sit for 5 minutes.
Remove the cover and stir in the remaining olive oil.
Serve immediately.
Makes about 5 cups.