Couscous Chickpea Salad With Ginger Lime Dressing
berry271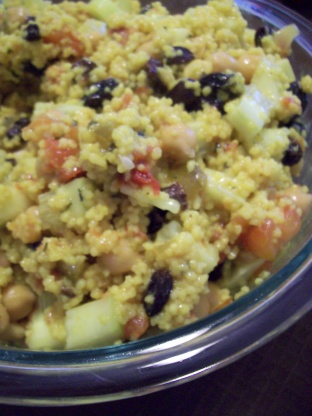 A nice summer, make ahead salad. I've been taking salads to work for lunch, as I often don't feel like hot food during the summer. This has a nice kick to it. Sometime I will try substituting dried cranberries for the raisins. Also if you don't have the turmeric, it's ok, it just adds nice color to the couscous. From Cooking Light June 2004.

Top Review by 10cups
ive made this dish twice now. the first time i had a ton of leftovers. the second time i kept all the ingredients the same and halved the couscous. That was PERFECT for us. The flavour is great and a bit sweet which i had to get used to because i don't really like sweet food unless its dessert. i use currents intead of raisens which might be sweeter im not sure. i think the first time i made it i substituted another herb for mint, parsley or coriander i think and that was still good.
Bring water to boil in a medium pot.
Meanwhile, peel and seed the cucumber.
Add the couscous, raisins, and turmeric to the water, stir, cover and remove from heat, let stand 5 minutes.
Meanwhile, chop the cucumber, tomato, and onion.
Fluff couscous and add vegetables and mint.
Drain and rinse the chickpeas and add to couscous.
In a large bowl whisk together the lime juice, olive oil, and seasonings.
Add the couscous mixture and toss to coat with dressing.
Refrigerate 1 hour before serving.
Drain and rinse the chickpeas and add to couscous.