Couscous, Chickpea & Cranberry Salad
ImPat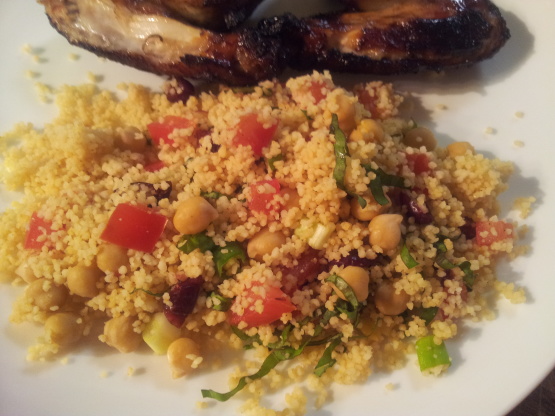 This is wonderful Rose Reisman salad, it's great as a side but I'll usually make it for a light lunch.

I was looking for a recipe to duplicate my favorite couscous salad served at a local deli and I think I've found it! I used a cranberry/raisin/currants mix and added pine nuts. Included the curry because it gives it such a good flavour against the honey and raisins. My new lunch staple!
Bring stock to a boil in small saucepan and stir in couscous and curry powder, cover and let stand for about 5 minutes. Transfer mixture to a large bowl to let cool.
Stir chickpeas, cranberries, green onions, bell pepper, and basil into the couscous.
For the dressing, mix together the olive oil, orange juice, orange rind, honey and garlic.
Pour over couscous and serve.