Couscous and Pomegranate Salad
Prep 10 mins
Cook 10 mins

North African version of couscous salad. Posted for ZWT6.
Directions
Place the couscous in a large mixing bowl. Add olive oil, vinegar, harrisa, and lemon juice. Stir.
Pour boiling water over the couscous until just covered. Stir. If couscous looks dry add more water. Cover bowl and let sit 6 minutes.
Use a fork to fluff the couscous. If the couscous is too dry or too hard, add more water, cover and let sit another few minutes.
Add green pepper and pomegranate seeds.
Reviews
Most Helpful
Loved this. It tasted as beautifully as it looked. The harissa gave it a nice spark cooled down by the bursts of sweet/sour from the pomegranate. Delicious. Thanks.

When pomegranate is in season (or when I can get the pomegranate seeds at Trader Joes!), I will make put this into the cooking rotation. I loved the combination of apricots and pomegranate! I also enjoyed the zing of spice that the harissa offered. ~Made for Zee Zesties on the ZWT6~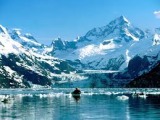 This is a very nice salad, and it would go with almost anything so pretty like jewels on a plate. I had mine with fish, just plain fish, so as to taste the salad, and it had a very nice picante flavour, not to hot. I guessed that the apricots, should be added at the same time as the peppers and pomegranate. Thank you for posting. Made for ZWT#6 2010.