Boomette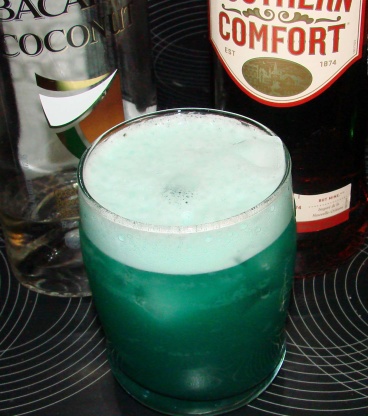 A drink to be served in a highball glass. ETA : I made it on July 29, 2011. It was too sweet for me and DH and I used only 1 ounce of Curacao Bleu. So next time I'll use only 1/2 ounce.

Top Review by Kim127
Wow, potent for sure! But so very tasty! I really loved this. It was enough for a couple of glasses for me. It does make an interesting shade of green which was actually kind of fun. It would be perfect as a potent punch for Halloween! On the other hand its very fruity and refreshing so its great for summer too. It sure gave me courage, lol!
Pour the amaretto, Southern Comfort, Malibu rum and blue curacao into a cocktail shaker 3/4 filled with ice cubes.
Add juices.
Shake well.
Strain into a highball glass, and serve.