County Fair First Prize Blue Ribbon Lemon Bars
Lawsome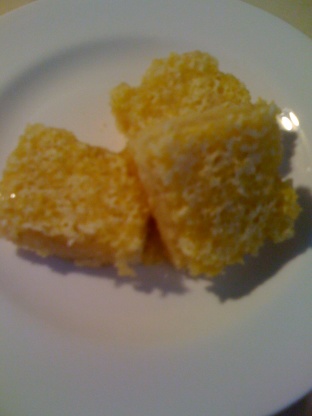 Melt in your mouth Blue Ribbon winners ! I make these at Least once a month.

This is an incredible recipe! I can see how it achieved a blue ribbon! The flavor is amazing. My husband found it a bit sweet, but I found it perfect. He needs all the sweet he can get! Enjoy these! They are a PERFECT dessert for a summer picnic! Thank you for sharing this amazing recipe! XO LA :-)
First Make the Base:.
2 cups flour.
¼ cup sugar.
1 cup butter softened.
Preheat Oven to 350.
Cut ingredients together in a large bowl.
Pat crust into 13 X 9 inch baking dish.
Bake for 15 minutes.
Then:.
Make the Topping :.
2 cups sugar.
1 tsp baking powder.
¼ cup flour.
3 eggs.
2/3 cup lemon juice.
Grated rind of 2 lemons.
Mix ingredients together in a large bowl and pour over crust. Bake another 20 minutes.
Cool, sprinkle with powdered sugar and cut into squares.