Country Time Lemonade Cake
dianesew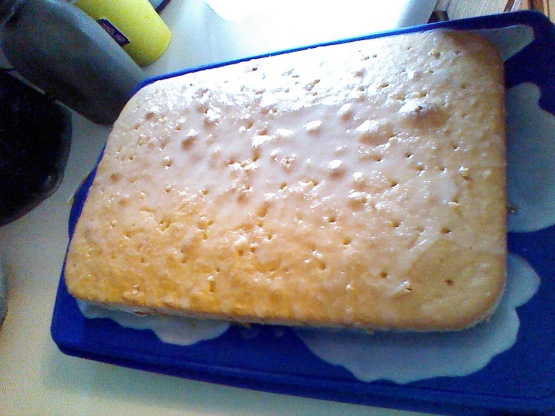 A great cake that tastes sooo good!! I've made this several times and it never fails me. Enjoy this one!!

Top Review by xrosie
This is one of the best ever all-time perfect cakes! Everyone always loves it! I have been making this cake forever . . . still have the magazine page I tore out from back in the day. . . pulled out the recipe a couple of years ago . . . it is just a classic! I use the yellow cake with lemon pudding and the original is not quite like this but with the same components. I have always wanted to experiment with a strawberry (cake mix) lemonade version . . . I just don't see how you can go wrong with that!
Also, I find it so much even better as it sits a day or two in the pan (13 x 9)soaking up the glaze completely. Update: The strawberry version came out very well -- I used a vanilla pudding.
PREHEAT oven to 350°F Mix cake mix, pudding mix, 1/4 cup of the drink mix, 1 cup water, eggs and oil in large bowl. Beat with electric mixer on low speed 1 minute. Beat on medium speed 4 minutes. Pour into greased and floured 12-cup fluted tube pan.
BAKE 50 to 55 minutes or until toothpick inserted in center comes out clean. Cool in pan 5 minutes; remove from pan. Invert onto serving platter.
DISSOLVE remaining 1/4 cup drink mix in 3 tablespoons warm water in medium bowl. Stir in powdered sugar with wire whisk until well blended.
PIERCE warm cake at 1-inch intervals with fork or skewer completely through to bottom of cake. Gradually spoon powdered sugar glaze over cake; let stand until glaze is completely absorbed.