Country-Style Vanilla Ice Cream
Very creamy, custardy, homemade vanilla ice cream. I found this recipe in Taste of Home and made this for my family of ice cream junkies today and it was a hit. By far the most vanilla-y, creamy recipe I have found. I like that it doesn't use heavy cream because it tends to leave a slick on your tongue. It's a keeper!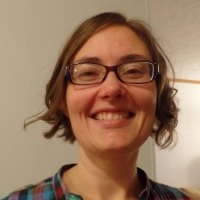 I love that this recipe uses ingredients I always have on hand. I cut the recipe in half to fit my ice cream maker, and it seems like a lot of steps, but it doesn't take that long to make. It is indeed very rich and we couldn't eat much at a time, which could be a good thing! Only down side to it was, and it's just me, mentally since I knew there was pudding in it, instead of just tasting very vanilla-y(which it does), it was also pudding-y.
In a large saucepan, heat 2 1/2 cups milk to 175 degrees; stir in the sugar until dissolved.
Whisk a small amount of hot mixture into the eggs.
Return all to the pan, whisking constantly.
Cook and stir over low heat until mixture reaches at least 160 degrees and coats the back of a metal spoon.
Remove from the heat.
Cool quickly by placing pan in a bowl of ice water; stir for 2 minutes.
Stir in vanilla.
Place remaining milk in a bowl; whisk in pudding mixes for 2 minutes.
Let stand for 2 minutes or until soft-set.
Stir into egg mixture.
Stir in whipped topping.
Press waxed paper onto surface of custard.
Refrigerate for several hours or overnight.
Fill cylinder of ice cream maker two-thirds full; freeze according to the manufacturer's directions.
Refrigerate remaining mixture until ready to freeze.
Transfer to a freezer container; freeze for 2-4 hours before serving.