Country-Style Scrambled Eggs
lazyme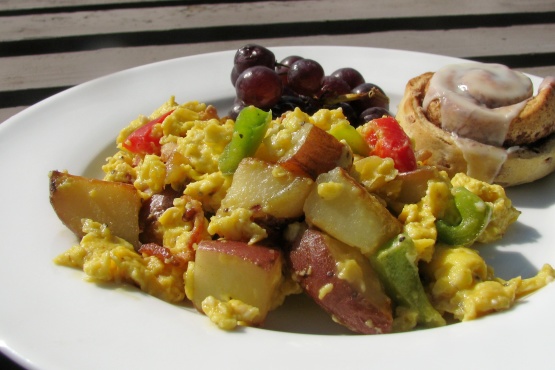 This is a recipe that my sisters and I often made for breakfast/brunch on the weekends, but we didn't measure the amounts. To make things easier, we used Ore Ida's Potatoes O'Brien Hash Browns, so no cleaning or dicing of the potatoes, onions and peppers, and we loved that it was a one dish meal. This recipe was found in my Taste Of Home Magazine, and uses fresh ingredients and lists the amounts. I would cut down the amount of green peppers for our taste, so adjust to your tastes.
In a large skillet, cook bacon over medium heat until crisp. Using a slotted spoon, remove to paper towels to drain.
Cook and stir potatoes in drippings over medium heat for 12 minutes or until tender.
Add onion and green pepper.
Cook and stir for 3 or 4 minutes or until crisp-tender; drain.
Stir in the reserved bacon.
In a large bowl, whisk the eggs, milk, salt and pepper; add to skillet.
Cook and stir until eggs are completely set.
Sprinkle with cheese and let stand until cheese has melted.