Country-Style Ribs & Kraut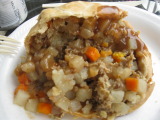 My wife isn't a big rib eater of any kind, but she likes them when I make them like this.....really hits the spot on a cold day!
Directions
Season Ribs & place in a crockpot.
Rinse & Drain Kraut, thoroughly in cold water.
Mix Kraut with the Caraway Seed, chopped Onion & season salt.
Place Kraut mixture on top of Ribs.
Empty can of soup on top of kraut & then the butter.
Turn crockpot on LOW setting & cook for 8 hours.
(This also works great with a Pork Bott Roast or Bratwurst).
Most Helpful
We loved this! Like the previous reviewer, I left out the caraway seed as I don't care for them either and I also left out the onion, as I'm allergic. I seasoned the ribs with Lawrey's seasoned salt and then browned them before putting in the crockpot, so they had lots of flavour. Also, I added potatoes over the ribs, then the soup, then the sauerkraut and then a 2nd can of cream of mushroom soup. The meat fell off the bones and everyone really liked it. My Mother-in-law even asked for the recipe! This was awesome and we will definitely been having again and again.
I made this for dinner last night. I left out the caraway seeds (just don't care for them) and used cream of mushroom soup with roasted garlic. I let this cook for about 91/2 hours. The meat just fell apart and was so tender. DH and I just though it lacked flavor. When I put the leftovers away I add some Knorr Aromat seasoning. I just warmed some up for lunch and Oh My Gosh what a difference it made sitting overnight. The flavors have blended and the taste is so yummy. This is comfort food for a cold day. Next time I'll make a day ahead for the flavors to blend. Thanks for posting. Recipenapped for Fall PAC 2008.