Nif_H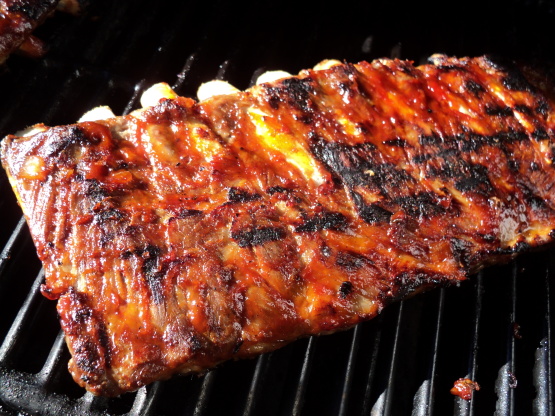 This recipe is for those country-style ribs you find at your grocery store, Usually you can find them on sale or buy one get one free. This helps you take advantage of the bargains.

Top Review by Nif_H
These ribs are absolutely delicious! I always boil my ribs as well, so I appreciate that this recipe does that. The sauce was tangy but sweet and had lots of flavours. We enjoyed these with Recipe #463411 and some fresh veggies. Made for Newest Zaar tag game. Thanks breezermom! :)
Cut ribs into 6 serving size pieces. Place in a large Dutch oven. Add sliced onion and water to cover the ribs. Bring to a boil. Cover, reduce heat, and simmer for 45 minutes. (If the ribs are already cut, decrease your cooking time in this step or they will fall apart -- only cook about 20 minutes.) Drain ribs, and set aside.
Melt the butter in a medium saucepan over low heat. Add the chopped onion, saute until tender. Add the minced garlic and cook 1 minute more. Stir in the remaining ingredients. Bring to a boil. Remove the sauce from the heat, and set aside.
Grill the ribs over medium coals for 20 to 30 minutes or until desired degree of doneness. Turn and baste frequently with the sauce.