PaulaG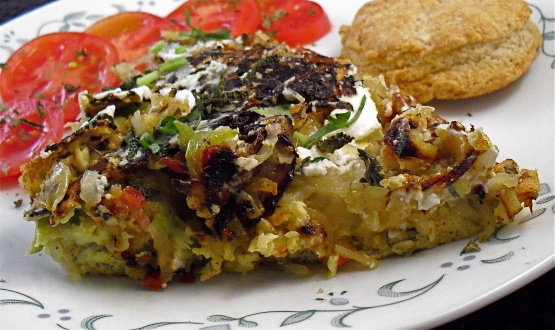 Adaptation of a recipe I saw on a cooking show a few years ago. I've listed exactly what I used on this occasion but of course a lot of variations are possible and different styles of cheese may be used.
Top Review by PaulaG
This made a delicious brunch this morning. I did make a couple of changes based on ingredients on hand. I went for the ham and it had been eaten. I cooked a couple of slices of chopped bacon in a cast iron skillet, rendered the fat, added in the potatoes, bell peppers, onions and mushrooms. After they had cooked a bit, I poured the beaten eggs over. I did flip the omelet and then topped it off with goat cheese and the parmesan. This was served with sliced tomatoes and homemade gluten-free biscuits. The recipe actually made 4 nice servings.
Whisk eggs in a medium bowl.
Add grated potato, parsley, ham, pepper, sage and onion to bowl and mix.
Melt butter in pan over medium heat and add mixture, set temperature so it is just bubbling.
Evenly spread mushrooms, tomato, capsicum and cheeses over top.
Cook without turning until top is starting to firm, around 30 minutes.
If required flip over and cook other side around one minute to set egg.
Serve cut in half without folding.