Country Style Egg and Bacon Pie
RonaNZ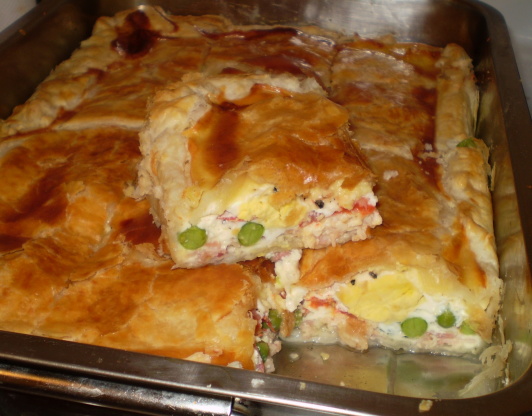 Good old fashioned recipe. A nice one if you have friends coming over for lunch.

Followed the recipe exactly and it was perfect. Everyone loved it even the fussy grand children. So easy and it looked & tasted great. Will definitely be keeping this one. Thanks for a great recipe. Just a hint. Don't forget to grease or oil the baking tray before you put in the pastry.
Preheat oven to 180oC.
Line a baking dish with one sheet of pastry.
Layer the ingredients.
First the onion and bacon on the bottom, then sprinkle peas, lay the sliced tomatoes.
Crack the eggs into the pie one at a time (do not beat beforehand).
And sprinkle with grated cheese.
Cover with second sheet of pastry.
Brush with milk and spike some holes in the pastry top.
Bake in a moderate oven for 40 minutes.