Country Style Chicken and Vegetables
byZula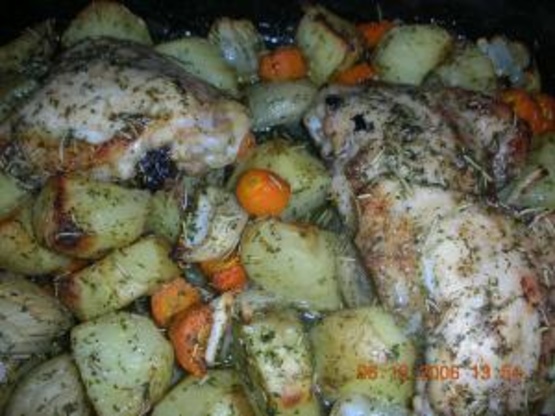 Absolutely delicious!!! My family wolfed it down in record time. Perfect for Sunday dinners, versatile and very easy to make. Would do just fine with lamb , beef or a whole chicken. Will definitely make again and again!

This is a great recipe. Very easy and delicious! I roasted the vegetables for about 30 minutes or so and then added skinless, boneless chicken breasts and they took about 15 minutes. Everyone enjoyed. Made for the Bargain Basement tag game.
Heat oven to 400 degrees. Coat 2 large flameproof roasting pans with non-stick cooking spray.
In a small bowl, combine the chopped garlic, rosemary, parsley, salt, pepper and oil.
In a large bowl, toss mushrooms, potatoes, carrots and onion with 2 tablespoons herb mixture. Spoon into roasting pans, dividing equally between the two.
Brush remaining herb mixture over chicken pieces. Place chicken, skin side up in pans and arrange the vegetables around them.
Bake in 400-degree oven for 45 minutes. Then add 1/3-cup chicken broth to each roasting pan. Baste the chicken with pan juices. Continue to bake for 15 minutes longer.
Remove the chicken and vegetables to a serving dish, keep warm.
Place one pan over medium heat on stovetop. Add cup chicken broth. Bring to a simmer, scraping up any browned bits from bottom of pan, pour through strainer to a small bowl. Repeat with remaining roasting pan and chicken broth.
Pour pan juices over chicken and vegetables and serve.