ImPat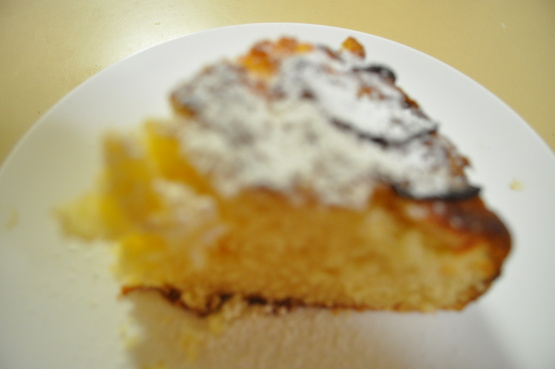 This cake is topped with fresh sliced apple and has a delicious home made taste. If you feel like a delicious, not too sweet coffee cake, then this is the one. Recipe came from a free succesful baking card sent to me in the mail.

Top Review by ImPat
the family really enjoyed this for dessert tonight (though I only had a very thin slice I was pleased with the ovall taste - I rarely eat dessert - it was very light and had good taste though still sweet to me). I baked a 170C fan forced oven for 55 minutes but would consider lowering temperature a notch or cooking for less time but that is my oven. The only other change I made was to make up a mix of cinnamon and sugar and sprinkle over the top of the apples before putting in the oven. This is also the first cake recipe I have dne were you add the flour mix and then add the liquid and I really think if you grease and fully line your pan you don't need the flour. Thank you Good Looking Cooking, made for ZAAR Chef Alphabet Soup Tag Game.
Preheat oven to 180 degrees celcius.
Grease and line a 20cm spring-form tin and sprinkle with flour to coat.
In a mixing bowl cream the butter and sugar until creamy.
Add the eggs one at a time, beating well after each addition.
Sift in the flour and fold in lightly using a large metal spoon.
Mix the milk with the vanilla and stir into the cake mixture.
Spoon the mixture into the tin and level the top.
Peel, core and slice the apple and brush with lemon juice.
Arrange slices on the surface pressing down gently.
Bake for 1 hour or until a skewer comes out clean when inserted into the centre of the cake.
Cool the cake in the tin for about 10 minutes, before turning onto a wire rack to cool completely.
Dust the cake with icing sugar and serve.