Country Scalloped Potatoes & Ham (Crock Pot)
lets.eat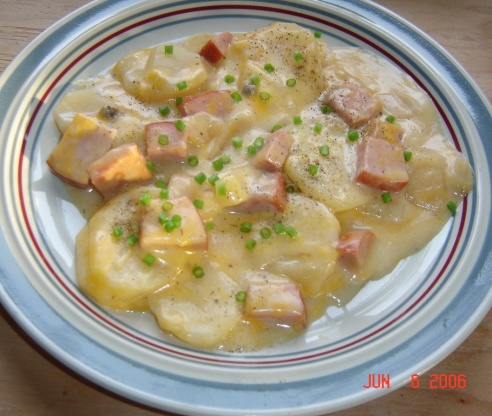 Yummy, Fast, and great for those busy days when you have no idea when you'll have time for dinner. From Fix it and Forget it.

Wasn't sure about this one. I followed the recipe exactely but it looked nothing like the picture. Mine was 'grey' looking and the sauce wasn't creamy like the pics but sort of separated. Also the potatoes weren't cooked - this was despite using the slicer to cut them uniformly. May try again but would opt for a different cheese and don't think I would cook in slow cooker next time.
Combine potatoes, onion,& ham in a lightly sprayed slow cooker.
Combine gravy mix, mushroom soup, and water.
Whisk until combined.
Pour over potatoes.
Cover.
Cook on low 7-9 hours, or High 3-4 hours.
Top with shredded cheese during last 30 minutes of cooking.