Country Sausage Macaroni & Cheese
Parsley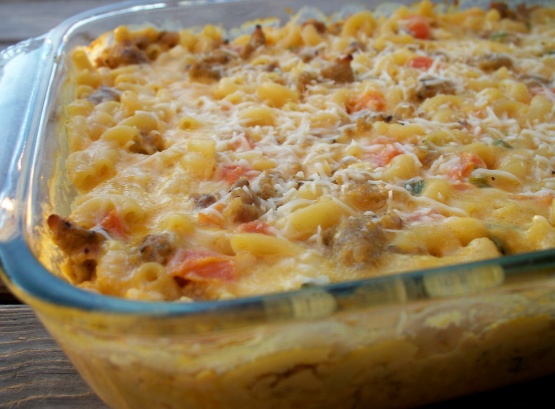 This is a Bob Evans recipe. I have not tried it, but it sounds like a gut-buster.

Delicious! A favorite at my house.
Preheat oven to 350. Crumble and cook sausage in medium skillet until browned. Drain on paper towels.
Combine milk, cheese and mustard in saucepan; cook and stir over low heat until cheese melts and mixture is smooth. Stir in sausage, tomatoes, mushrooms, green onions and cayenne pepper. Remove from heat.
Cook macaroni according to package directions. Drain.
Combine macaroni and cheese mixture in large bowl; toss until well coated. Spoon into greased 2 quart casserole dish.
Cover and bake 15 to 20 minutes. Stir, sprinkle with Parmesan cheese. Bake, uncovered, 5 minutes more. Let stand 10 minutes before serving.