Country Sausage Mac Casserole
LilSis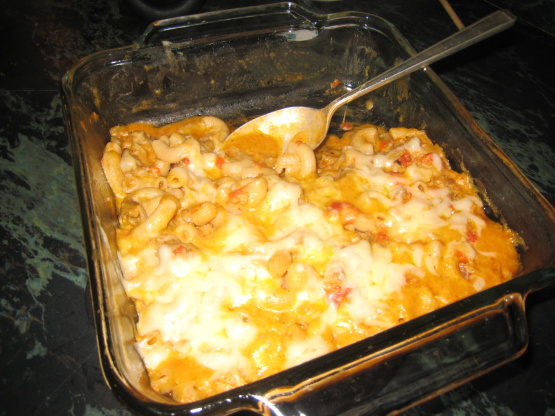 This is a hearty mac and cheese dish.The added sausage and vegetables make it a winner!Quick and Easy to make. Yet most enjoyable. The entire family will enjoy the change from ordinary mac and cheese!My husband worked for Bob Evans Restaurants, this is one of the recipes from them, slightly adjusted.

This was a good, hearty casserole. We enjoyed all the different veggies in this and it was also quite easy to prepare and was very economical. My family loves cheesey macaroni casseroles and all of the ingredients appealed to us. Unfortunately, I really didn't enjoy the flavor of the sauce as much as I'd expected. The taste of the Dijon mustard was a bit overpowering - I think next time I would reduce the amount to just a few Tablespoonfuls, rather than the whole 1/2 cup called for. Also, the cook time indicates only 25 minutes, but this is only taking into account the baking of the casserole. Browning the meat, cooking the pasta,and cooking the sauce took an additional 25-30 minutes. UPDATE: The recipe has been edited to correct the amount of mustard since this review was first written.
Preheat oven to 350°.
In medium skillet, crumble and cook the sausage; drain on paper towels.
In medium saucepan, combine milk, cheese and mustard; cook and stir over low heat until the cheese melts and the mixture is smooth.
Stir in sausage, tomatoes,mushrooms, onions and cayenne pepper; remove from heat.
Cook elbow macaroni and drain.
In large bowl, combine macaroni and the cheese mixture;gently toss until well coated.
Spoon into greased 2-quart casserole dish.
Cover and bake 15-18 minutes.
Remove from oven, sprinkle with Parmesan cheese; return to oven, uncovered, for 5 minutes more.
Let stand 10 minutes before serving.