Country Pineapple Casserole
Prep 10 mins
Cook 35 mins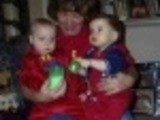 This dish was served at a dinner for 10 that I attended recently. We all really enjoyed it. It was a new kind of dish for me. It can be used as a side dish or a dessert as it is sweet.
Directions
Cream the butter and sugar.
Add the eggs one at a time, beating the mix well after each egg is added.
Stir in the pineapple and lemon juice.
Fold in the bread cubes.
Pour into a greased 13 x 9 cake pan or baking dish.
Bake, uncovered, at 325 degrees until set.
Most Helpful
I LOVE this dish. It makes the perfect side dish or dessert- and it's not too sweet.It can be eaten warm or cold. I made it over the holiday, and loved the fact that it was sweet, but not too sweet. I cut it in half- and now wish I would have made the full amount!! Yummy, Yummy, Yummy!! Update Jan 2013- The pineapple I used today was hard to strain, so I used 12 slices of bread to make up for the extra liquid. Yummy as always!

This is delicious! It is not too sweet either. I only had a lime instead of a lemon but I don't think it mattered because it was delicious. This is a great side dish or even just a dessert like dish. It just taste WONDERFUL!!!! Thanks!
Such a refreshing change from bread pudding made with raisins, currants or other dried fruit! As other reviewers have said, its not overly sweet. I served it warm with frozen yogurt. Thanx Trisha!