vrvrvr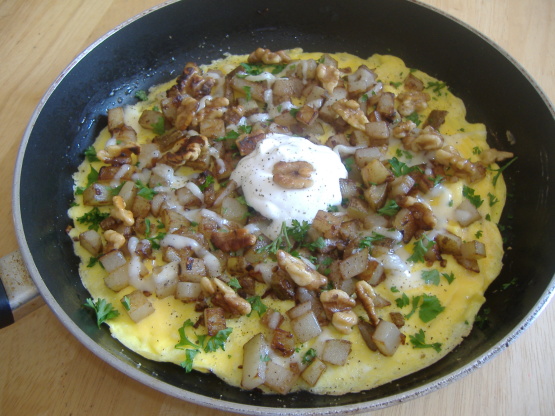 We just love food like this in our house...can you go wrong with eggs, cheese, potato, nuts, and a dollop of sour cream to boot? This omelet is served from the skillet, cut into pie-shaped pieces.
Melt 1 T. butter in a wide nonstick skillet over medium heat; add walnuts and cook, stirring, until lightly browned, about 2 minutes.
Remove nuts with slotted spoon onto a plate and set aside.
Melt remaining 1 T. butter at medium (or medium-low) heat and add potato and onion to skillet, stirring, until potato is soft, but only lightly browned (about 10 minutes).
Remove from pan to another plate and set aside.
Remove any particles from pan, reduce heat to medium-low. Coat skillet with 1 t. olive oil.
Beat eggs lightly, add to pan and cook, gently lifting cooked portion to allow uncooked egg to flow underneath.
When top of omelet is almost set but still moist, sprinkle evenly with potato-onion mixture, Swiss cheese, parsley and salt to taste. (Cover, if desired, to cook 1 minute until omelet looks "dry.").
Mound sour cream in center of omelet.
Garnish with toasted walnuts.
Cut into 4 wedges and serve from the pan.