Country Oatmeal Cookies in a Jar
karenury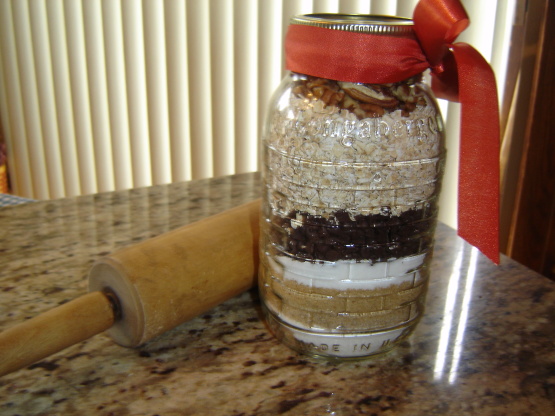 I have made these for the last 3 years as gifts for sunday school teachers, the mail carrier, the woman who does my hair, etc and they have received rave reviews. Everyone who receives them asks for them the following year. Enjoy them

Thank you for not only a really good oatmeal cookie recipe, but one proportioned perfectly for gift giving and for excellent instructions, including size of jar. I made a batch of these before giving, and they were really yummy. Thank you!
Using a 1 quart jar, layer in the ingredients in the order given.
Pack down the jar after each addition.
Replace the lid and cover with an 8 inch circle of fabric.
Secure the fabric with a rubber band, cover the rubber band with a piece of ribbon or raffia around the lid.
Attach a tag to the ribbon with the following instructions:.
Preheat oven to 350°F.
In a medium bowl, cream together 3/4 cup softened butter, with 2 eggs and 1 teaspoon of vanilla.
Add the entire contents of the jar and mix by hand until combined.
Drop dough by heaping spoonfuls onto ungreased cookie sheet.
Bake for 12-15 mins in a preheated oven.