Country Hamburger Lentil Soup - Crock-Pot
Brenda.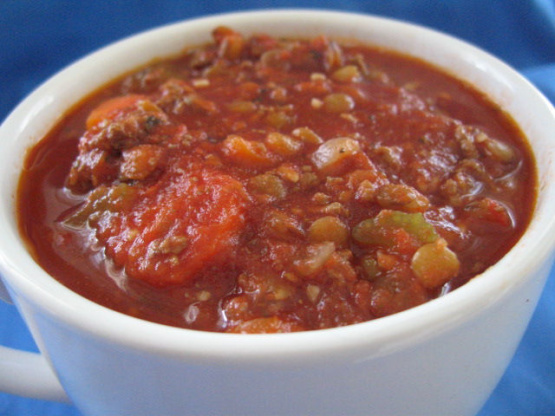 I created this on a busy hockey weekend - I wanted something warm to come home to after spending a long day at the hockey rink. This was just the ticket... and I got to clean out my cupboards too!
I liked this stew, and thought I'd share my changes. I used 2 regular carrots and omitted the celery. I sauteed the veggies with the beef with some salt and pepper. I also used chicken stock and chopped up a jalapeno (no seeds) and fresh basil for the crock pot. Next time I think I'll try italian sausage and beef broth instead of chicken stock. Thanks for sharing this recipe.
Brown ground beef.
Combine all ingredients in 4-5qt crock pot.
Cook on low at least 12 hours or high for 6 hours. I do a combination of high/low, when I made this I did low for 5 hours and high for 4 hours.
Remove bay leaves before serving.
*Note: when I saved the leftovers, I added another cup of water to prevent it from becoming too thick the next day. It made very yummy leftovers!