Prep 15 mins
Cook 12 mins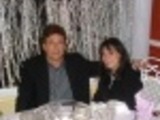 Good Food Magazine, October 1986
Directions
Heat oven to 450 degrees.
Make buttermilk biscuits: mix flours, baking powder and soda, salt, and pepper in mixing bowl. Cut 6 T. butter into small pieces and add to flour mixture. Cut in butter with pastry blender or 2 knives until mixture resembles fine meal. Melt remaining 4 T. butter and set aside. Make well in flour mixture, pour in buttermilk, and gradually work flour into buttermilk using fork.
Turn dough out onto lightly floured surface. Roll or pat evenly 1/2-inch thick. Using 2-1/2" biscuit cutter or rim of glass, cut out 12 biscuits. Brush both sides with melted butter and place on ungreased baking sheet.
Bake until golden, 10-12 minutes. Let cool on baking sheet at least 5 minutes before splitting.
Split warm biscuits in half. Spread bottom half with mustard and top with butter. Place 2 slices ham on each bottom half and cover with top. Serve warm.
Reviews
Most Helpful
This is one of those recipes that need to be made more often Yum.. Delicious, i used a mustard pickle to put on the biscuits instead of Dijon but otherwise tried to make it as written (I didn't read the recipe properly and put all 10 tbs of butter in it :) but it worked) Served it with Cranberry and Citrus Broccoli Salad

MMMM...light and fluffy biscuits, Jackie!! I had a little less than 1/2 cup whole wheat flour left, so I had to use mostly white flour. The night before, I cut the butter into pieces and froze--then added to the mix next morning. YUM! Made for Every Day's a Holiday Tag.

Summer Central