Country Ham Biscuits - Old Chickahominy House, Williamsburg, Va
alligirl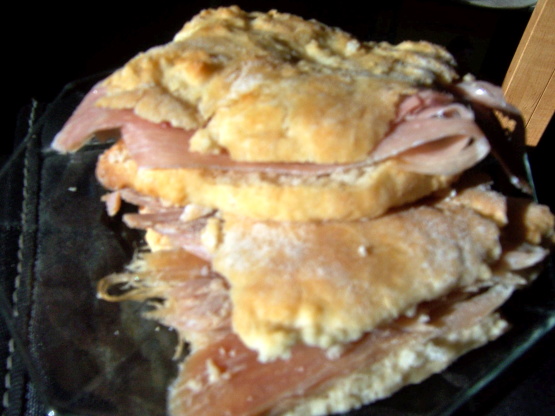 These Southern biscuits are rolled thin to allow the flavor of the country ham to shine. Published in Saveur magazine, December 2009.

Terrific biscuits and pretty doggone easy! I liked the flavor of these, although I think I rolled them a bit too thin. I will get better at it, as this went in my 'must make again' file. The biscuits are a perfect foil for the salty country ham. Thanks so much for sharing these, swissms!
Heat oven to 425°F
Sift flour into a large bowl; mix in butter until the mixture has the consistency of cornmeal. Using a wooden spoon, stir in buttermilk to form a dough. Transfer dough to a floured work surface; knead briefly until smooth.
Roll dough into a 1/4" thick rectangle. Cut dough into twelve 4"x3" rectangles; transfer to a baking sheet. Bake until golden brown, about 15-20 minutes. Cool slightly.
To serve, slice biscuits and stuff with ham.