Lainey39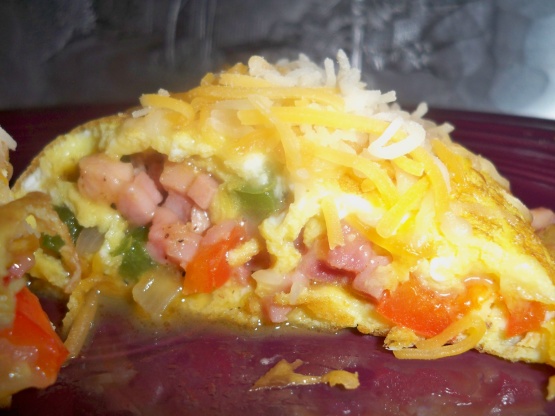 I agree this omelet is very tasty. It's great when you find a quick easy recipe that comes out better than any restaurant. We made a couple tweaks to our liking; added 1 Tbsp of yogurt cause I find this helps make omelets abit more fluffy. For even more flavour I added a dash of hot sauce along with some chopped banana peppers in the eggs and finely chopped jalapeno with the bell peppers. We like our omelets meaty so we increased abit, rather than measuring by cups we measure by ounce's, normally use 5 - 6 oz. Awesome recipe, thanks for sharing.
Beat eggs with salt, ground mustard, cayenne and onion powder until well blended; set aside.
In 12 inch skillet saute red and green bell peppers and onion in vegetable oil over medium heat until soft.
Stir in ham and sausage.
Remove to plate.
In same skillet, pour in egg mixture.
Cook over medium heat for 3-5 minutes, lifting up edges to let liquid egg in the center to flow into skillet.
Continue cooking until egg mixture is firm, but not browned.
Pour reserved peppers, onion, ham and sausage onto 1/2 of the omelet.
Sprinkle with 1/2 of the cheese.
Fold omelet in half with spatula.
Sprinkle with remaining cheese.
Enjoy!