Prep 10 mins
Cook 12 mins

Good old country food! The fellows love this one!!
1⁄2 cup flour
1⁄2 teaspoon salt
1⁄2 teaspoon pepper
3⁄4 cup buttermilk
1 cup cracker crumb
4 cube steaks
3 tablespoons oil
1 (10 3/4 ounce) can cream of mushroom soup
1 cup milk
Directions
Mix flour, salt, and pepper.
Put buttermilk in shallow bowl.
Put crumbs in another bowl.
Coat steaks with flour, then buttermilk, and then crumbs.
Cook in hot oil for 5-6 minutes a side.
Remove and keep warm.
To skillet add soup and milk; bring to a boil, stirring.
Serve steaks with the gravy.
Most Helpful
very good and easy to make, the mushroom gravy with a little added garlic powder and black pepper was very tasty. I got 4 lbs of cube steak and easily feed 5 1/2 (my daughter doesn't eat very much) with mashed potatoes and green bean casserole as side dishes. I used roasted garlic flavored bread crumbs instead of the crackers, it gave it a very good flavor. I would definately recommend just turning the steaks once and cooking the entire 6 minutes on each side, flipping them over and over causes all the spices to fall off and stick to the pan.
Hugely wonderful. I'm a California transplant, so my husband is always happy when I make anything that tastes like Texas cooking! The steak turned out tender and was done about medium when cooked 6 mins. on each side. I like mine a little more done, I might do it a little longer next time. The "gravy" was wonderful. I trimmed the fat from the steak (we used sirloin), used low-fat milk, and used 98% fat-free soup, to make it more digestible by my California-educated stomach. Really a wonderful recipe, so easy, and now my husband is happy I'll cook fried steak for him. :) Highly recommended!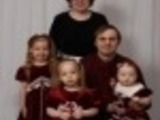 I also used Ritz crackers for this and it is wonderful!!!!! Thanks!!!