teresas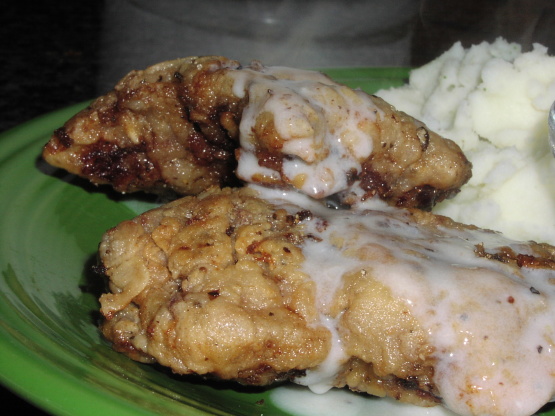 Everybody's got their favorite recipe for country fried steak, but if you don't-MAKE THIS YOUR FAVORITE!! It makes plenty of gravy and we like to serve it with mashed potatoes and corn fritters. Be sure the gravy is seasoned to your liking and add more salt or pepper if needed. Thanks to Top Secret Recipes, this is from Shoney's Restaraunt-never been there but this has to be a big seller=)

This was a very yummy recipe...I was a bit disappointed in the gravy...I followed the recipe but the gravy never really thickened...I should have added some extra flour...overall it was delicious...and the steak was nice and crispy on the outside...this is my Mothers favored dish to order when we go out for lunch...made for Best of 2014 tag game...
The gravy takes the longest, so start the gravy by combining the chicken broth, milk, salt and pepper in a medium sauce pan over medium heat.
As it is heating (but before boiling) be very careful and remove about a 1/2 to 1 cup of the hot liquid.
Add flour to the liquid and whisk to combine.
Pour the hot liquid/flour mixture back into the sauce pan and whisk til smooth.
Bring to a boil and cook for 10-15 minutes until thick. Stir frequently.
While the gravy is going, heat oil in a deep fryer or large frying pan to 350°F Make sure to have enough oil to cover the steaks while frying.
Sift flour, salt, pepper, garlic powder, and seasoning salt together into a large shallow bowl.
Pour water into another shallow bowl.
Dredge each steak, one at a time, first in the water, then in the flour. Repeat this one more time so that each steak has been coated twice.
When all steaks have been coated and the oil is hot, drop the steaks, one at a time, into oil. If needed, work in batches. (I usually do.).
Fry for 8-10 minutes, until golden brown. Place on wire rack with paper towels underneath to drain. (This keeps 'em crispy).
Serve the steaks hot with gravy poured over.