Derf2440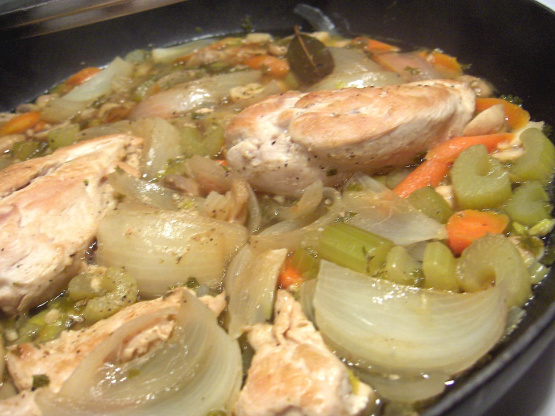 this chicken was quite good but we found it to be a little bland and the chicken was a bit dry. It did help to have the veggies and sauce over the chicken. I really feel 35 minutes was too long to simmer chicken breast and if I make it again I will simmer it for only about 20 minutes. We did enjoy the veggies and the sauce. thanks for posting.
Remove skin from chicken.
Rinse chicken; pat dry.
Spray a cold large skillet with non-stick coating.
Preheat the skillet over medium heat.
Brown chicken on all sides in hot skillet.
Drain fat from skillet.
Season chicken lightly with salt and pepper.
Add mushrooms, celery, white wine, carrot, onion, garlic, bay leaf, parsley, and thyme to the skillet.
Bring to boiling; reduce heat.
Cover and simmer for 35-40 minutes or till chicken is tender and no longer pink.
Discard bay leaf.
Transfer chicken and veggies to a serving platter; keep warm.
For sauce, bring liquid in skillet to boiling.
Cook about 3 minutes or till reduced to 1/2 cup.
Pour sauce over chicken and veggies.