katew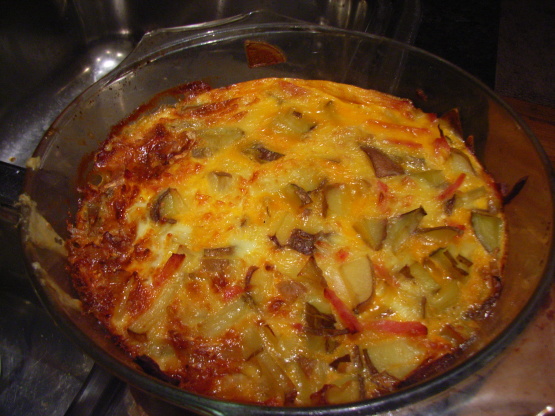 We usually eat breakfast for dinner once a week; a lot of times it is breakfast casseroles. This is a good all-in-one casserole the whole family likes. This is from the WI Milk Marketing Board, Inc.

Top Review by mdumes
Yum! I used all the indicated ingredients but just used whatever cheese I had on hand (tex mex and cheddar) and dried parsley. The kids loved it, the adults enjoyed it too. Quick and easy, but we had to cook longer as we didn't have an oven safe pot so had to transfer. Cooked an extra 10-15 minutes that way to firm up the egg. Will definitely add this into the rotation!
Preheat oven to 350 degrees F.
Melt butted in a 10-inch oven-proof skillet.
Add potatoes and onions and cook, covered over medium heat about 15 minutes until tender and lightly browned, stirring occasionally.
Beat together eggs, salt, pepper, and milk; stir in 3 Tbs parsley and 1/2 cup cheese.
Pour egg mixture over potatoes; sprinkle with ham.
Bake for 20 minutes or until eggs are set.
Sprinkle remaining 1/2 cup cheese over eggs; return to oven for about 2 minutes until cheese is melted.
Remove from oven and garnish with parsley.
Cut into wedges to serve.