Country Chuck Roast with Onion Gravy
gailanng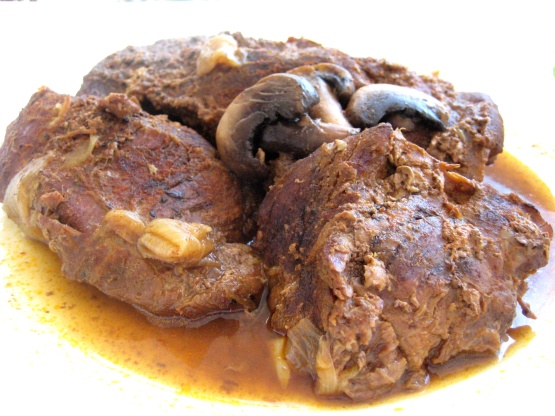 This was originally my great grandmother's recipe and was passed on to my grandmother. My Memaw made this dish for many family get-togethers and always accompanied it with mounds of mashed potatoes, cole slaw and green beans, all fresh from her garden. The brown sugar is the magic that makes this roast utterly divine.

MAJOR 5 STARS! But using my 'Southern girl' know how when it comes to working with flour I used all the ingredients while including my own method.. I had a 2 LB chuck roast that I rubbed down with the salt, pepper & brown sugar mixture and let sit for a half hour on the counter while I pre heated my oven to 300'. When my oven got a steady 300' I took out my dutch oven and on the stove top over medium heat added about 2 tablespoons olive oil in there till it got hot then browned my rubbed down chuck roast both sides.. & I mean BROWNED it.. crusted it... let the bits crust up in the bottom of the dutch oven without really burning it. Removed the roast... added the thickly sliced onion & reduced the heat slightly so the onion cooked down a bit without letting the onion burn. Added the half cup of flour to the onion and let the flour get hot though out while not letting it burn.I simmered up the 5 cups of water in a seperate sauce pan with one cube of beef bouillon. Once onion looked slightly softened I added the roast back into the dutch oven then added the 5 cups water simmered with the beef buillion. Added 2 cloves garlic chopped and a good splash soy sauce into the whole mix. Put the lid on the dutch oven, put the whole thing in the preheated 300' oven and let it cook for 3 hours.. perfect meat.. perfect gravy. Serve this with mashed potatoes.. or rice.. a crisp salad.. and some bread.. anything you would like to dip in gravy.. cause you'll have a good bit of it and the gravy is wonderful!
Rub the salt, pepper, and brown sugar into all the sides of the roast.
Place the meat and the whole onion into an roasting pan.
Roast in a 450°F oven for 15 minutes, flip the roast over and roast for an additional 15 minutes.
Whisk together the water, flour, 1 1/2 teaspoon salt and pepper.
Pour the flour mixture into the roasting pan and reduce the oven heat to 350°F and roast for 2 hours or roast for 3 hours at 300°F, flipping the roast over once at the midpoint of the cooking time.
Cover the pan if the meat looks like it is drying out.
Chop the onion into the gravy before serving.