Country Bread (Pain De Campagne)
WiGal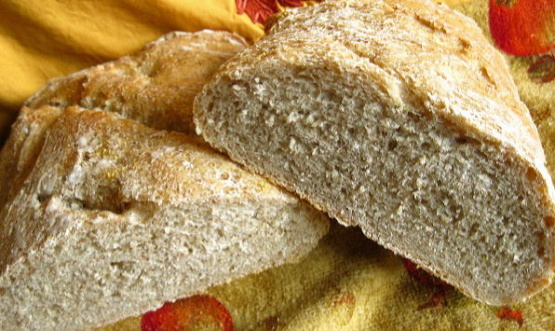 The addition of rye flour, which is common in many hearty French breads, gives the bread great color and texture, and a fine crust.

Top Review by Katzen
This is chewy, delicious bread, with a hearty crust - perfect for soups and stews, with a wonderful texture and taste. Now I know what the trick is to making bread that perfect heartiness and colour! Thanks, Swissms - this was well worth the wait. I threw ice cubes in the bottom of the oven like WiGal did - this worked perfect. I also used the recipe converter to make 2 loaves instead of 3, which was perfect for us. Next time, I'll just make sure I don't fall asleep while it's doing it's last rise, so I'll get a good picture! Made for 1-2-3 Tag.
Starter:.
Mix water and honey in medium bowl. Add yeast; stir to dissolve. Let stand until foamy, 10 minutes. Add 1/2 cup rye flour and 1/2 cup bread flour; stir to combine. Add remaining 1/2 cup rye flour. Mix in enough bread flour to form shaggy mass that can be worked with hands. Turn out starter onto floured surface; knead 3 minutes, adding more bread flour if too sticky to work. (Starter will be doughlike in texture at this point.)
Sprinkle 1 tablespoon bread flour in medium bowl. Add starter dough to bowl. Cover with plastic; let stand at room temperature overnight (starter will lose its shape and spread to a thick batter).
Bread:.
Place 1/4 cup warm water in small bowl. Sprinkle yeast over; stir to dissolve. Mix 3 cups bread flour and rye flour in bowl of heavy-duty mixer fitted with dough hook. Add yeast mixture and remaining 2 1/2 cups warm water; mix on low speed to blend. Add 1 cup bread flour; beat 4 minutes. Add enough bread flour to form shaggy mass; beat 4 minutes. Add salt and starter; continue mixing until dough pulls away from sides of bowl, adding more bread flour if too sticky to form dough, about 5 minutes.
Turn out dough onto lightly floured surface; turn to coat. Transfer dough to large bowl. Cover with kitchen towel. Let rise at room temperature 1 hour.
Generously flour 1 heavy large baking sheet and 1 heavy medium baking sheet. Punch dough down. Turn out onto floured surface. Knead until smooth, 2 minutes. Divide into 3 equal portions. Shape each into ball. place 2 balls on large sheet and 1 on medium sheet. Cover with kitchen towels. Let rise at room temperature until doubled (test by pressing 2 fingers gently into dough; if indentations remain, dough has risen completely), about 2 hours.
Preheat ove to 450°F Place baking pan in bottom of oven; add water to create steam. Using sharp knife, cut 3 diagonal slits across top of each loaf. Place baking sheet with 2 loaves in oven. Bake until breads are deep brown and sound hollow when tapped on bottom, about 35 minutes. Transfer to rack and cool.