Pam-I-Am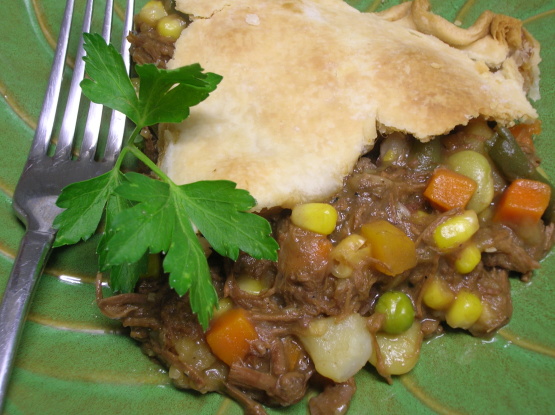 I just got this in my email from Pillsbury and it sounds so yummy. Personally, I don't like corn in pot pies, so I'm thinking peas and carrots instead of mixed veggies.

This was very easy to prepare and was a hit with everyone. I did omit the sugar for personal taste. Otherwise it was followed to the letter.
Heat oven to 400°F Prepare pie crusts as directed on package for two-crust pie using 9-inch glass pie pan.
Heat oil in large skillet over medium-high heat until hot. Add beef and onion; cook and stir until beef is browned. Drain.
In small bowl, combine gravy, cornstarch, sugar and pepper; mix well. Add to beef in skillet. Stir in vegetables and potatoes. Cook about 5 minutes or until vegetables are thawed, stirring occasionally.
Spoon mixture into pie crust-lined pan. Top with second crust; seal edges and flute. Cut slits in several places in top crust; sprinkle with sesame seed.
Bake at 400°F for 35 to 45 minutes or until golden brown. Let stand 10 minutes before serving.