Country Bean, Beef and Cabbage Soup
dojemi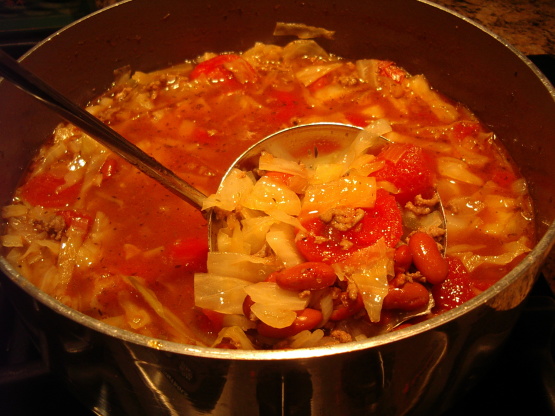 This is similar to a stuffed cabbage soup, with beans substituting for the rice. I am on the South Beach Diet and this soup can be eaten on Phase I of the plan. It's very tasty and easy to prepare. Even if you are not watching your carb/sugar intake, it's a healthy good for you soup. This recipe originated from The Good Carb Cookbook.

This is the same recipe I use from Sandra Woodruff's Good Carb Cookbook, except she uses 12 oz. of lean ground beef. I added a chopped clove of garlic and canellini beans instead of red kidney beans, and some boullion granules and extra water because we like our soup to be more liquidy. I've made this simple soup many times and it's always good.
Spray inside of a large size dutch oven pot with non stick cooking spray; add ground beef.
Cook beef over medium heat until it's crumbly and no longer pink.
Add beef broth, tomatoes, onion, thyme, pepper and bay leaf.
Bring to a boil over high heat; cover and simmer for about 15 minutes.
Add cabbage and beans, turn heat up to high and bring to a boil.
Cover and simmer on low heat for 20 minutes.
Remove bay leaf and serve.