Parsley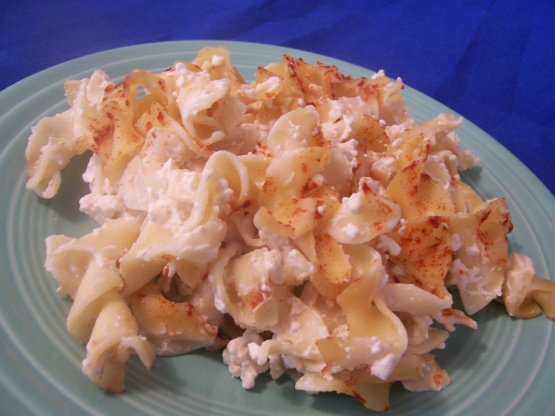 This falls under the category: Amazing What a Great Recipe Can Be Produced from Such Humble Ingredients. It's quick and so easy to make too. This is another recipe from my favorite (award-winning) midwestern cookbook "Hollyhocks and Radishes." If you'd prefer, substitute sour cream for the yogurt, but IMHO it tastes just as good, and it's much lower in fat! (Note that this comes from a cookbook from the Upper Peninsula of Michigan, which is technically in Canada, so I'm submitting this for Zaar World Tour Canadian recipes.)

This was not at all what I expected. I followed the recipe EXACTLY and I did not care for the flavor or texture. The worcestershire was overpowering. i had about 5 bites and had to throw out the entire batch. I will not be making this again.
Preheat oven to 350 degrees Fahrenheit.
Cook egg noodles according to package directions (for fine noodles, boil 3-4 minutes) and drain.
Mix all ingredients together except for paprika.
Pour mixture in 2 quart casserole dish lightly sprayed with cooking oil.
Bake, uncovered, for 25-30 minutes and sprinkle with paprika before serving.